It is the mandate of EPIRA Law to disintegrate the function of Philippine Electricity Market Corporation (PEMC) and this gave way to the birth of Independent Electricity Market Operator of the Philippines (IEMOP). PEMC will now be responsible for the Wholesale Electricity Spot Market's (WESM) governing functions and IEMOP will handle the operations arm of the WESM.
WESM is the gateway to all GenCos, DUs, ECs, RES and other stakeholders for energy trading. As the single entity breaks into two, what benefit can the general public get from this major transformation?
What's new?
Can we call it now WESM 2.0? As the Operating Agreement (OA) has been cemented between PEMC and IEMOP to corroborate the subsequent phase of the WESM, they can now turn to their respective area of endeavor separately but harmoniously.
But there will be new challenges.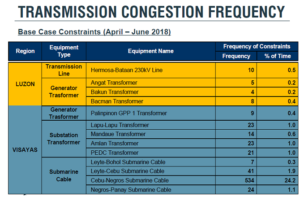 With only minimum interference in the market by the government, the end-user of power could achieve level playing field, competitive electricity marketplace, and greater transparency. In the spirit of independence, the market could encourage private sector investment, improved energy security, and reasonable pricing.
So, with these developments, is it now safe to say that we will no longer experience in the near future what is illustrated on the above table representation? The table shows that there is line congestion on the said regions manifesting market price to go upward. WESM can only reach its true objective by eradicating factors that make the energy environment anti-competitive.
---
---