Ber months for Filipinos are off to a good start as the Manila Electric Company (Meralco) announced today that overall electricity rates went down to P 10.0732 per kWh this month, with a decrease of P 0.1458 per kWh from last month's P 10.2190 per kWh.
Typical households consuming 200 kWh per month can expect a P 29 decrease from their electricity bills.
"We are pleased to announce that despite the recent figures released on inflation and a slight depreciation of the Peso, Meralco customers can find some relief in the decrease of power rates this month, as this goes against the current trend that we see with other basic goods and commodities," said Meralco Spokesperson and Head of Public Information Office Joe Zaldarriaga.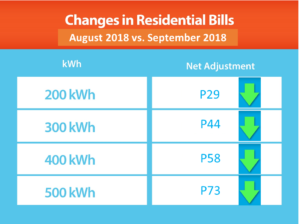 Meanwhile, lower charges in the Wholesale Electricity Spot Market (WESM) resulted in a decrease of generation charges, from P 5.3491 per kWh in August to P 5.2719 per kWh. The total decrease was P 0.0772 per kWh.
WESM prices this month decreased as a result of both less power plant capacity on outage and lower average demand for power in Luzon. The share of WESM purchases to Meralco's total requirement this month was 21 percent.
The decrease in WESM charges offset a P 0.6112 per kWh and a P 0.3287 per kWh rise in the cost of power from Power Supply Agreements (PSAs) and Independent Power Producers (IPPs), respectively.
Both PSA and IPP charges increased partly because of higher fuel prices and peso depreciation. The share of PSA and IPP purchases to Meralco's total requirement this month was 39 percent and 40 percent, respectively.
Lower transmission charge and other charges of residential customers decreased by P 0.0292 per kWh due to lower NGCP Ancillary Charges.
Meanwhile, taxes and other charges went down by P 0.0394 per kWh this month.
Meralco's distribution, supply, and metering charges, meanwhile, have remained unchanged for 38 months, after these registered reductions in July 2015.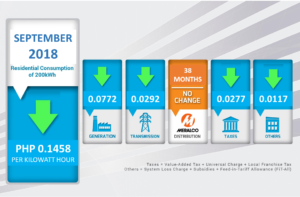 Meralco does not earn from the pass-through charges, such as the generation and transmission charges. Payment for the generation charge goes to the power suppliers, while payment for the transmission charge goes to the NGCP.
Taxes and other public policy charges like the FIT-All rate are remitted to the government.
---
---