Traditional geothermal plants utilize steam or hot water from below ground to harness geothermal power and energy. Despite being beneficial, only a few countries around the world have access to ideal geothermal fields; but there is a recent technological advancement that allows geothermal power and energy to be harnessed in other sources.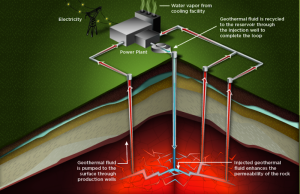 Photo from thinkgeoenergy.com
The idea behind the Enhanced Geothermal System (EGS) is the extraction of power and production of energy from inexpensive and non-ideal sources like hot dry rocks (HDR). Moreover, this scheme aims to utilize the difference in temperatures to increase the permeability of rocks.
The EGS harnesses geothermal power and energy when high-pressure water is pumped through HDR to initially break them down. Afterwards, more water is pumped through the broken rocks that is converted into steam that generates power and electricity above ground. The water is pumped back to the reservoir via injection wells later on. 
The system can potentially expand not only the use of geothermal energy but also of geothermal resources because of its accessibility to a lot of places; and, If utilized and maintained well, the EGS can be a potential source of clean, renewable energy. However, the operation can induce seismic activities, such as earthquakes, that can pose a danger to nearby communities. 
While the EGS is a fairly young and still developing technology, countries, like the United States, United Kingdom, France, Germany, and Australia, have taken part in the development and generation of geothermal power and energy via the system.
The question now is this: is EGS viable in the Philippines?
A 2016 study showed that the Philippines has great potential to sustain a majority of the  energy demand of the power grid; and with the system being more economically viable, the resources to be used are readily available in the country.
Geothermal energy is greatly capable of supplying the Filipino population with stable, low-carbon energy; but because the energy climate of the country is heavily dependent on coal and oil, the laws and incentives passed specifically for the geothermal sector are not being implemented, and although geothermal technology has improved throughout the years, the country's current political climate and the continued uncertainty with the present technology makes it difficult to widely implement these at present.
It is advised that the government tap and explore the array of readily available alternative sources of renewable energy in the country, and harnessing the country's geothermal reservoirs — both the ideal and the alternative — is said to be the best possible solution to meet energy demands without compromising the sustainability of the environment.
Sources:
Energy.gov
Union of Concerned Scientists
Energy Efficiency & Renewable Energy
---
---