Ever wondered how electricity safely reaches our homes and businesses? Most would think that it is simply delivered through the transmission lines and distributed to our outlets. But there's a vital component that must be taken into account. This is where transformers play their rather silent, yet crucial role.
Transformers ensure that the electricity we use is safe and stable, especially for businesses and other essential establishments that require constant and steady supply like hospitals, grocery stores, restaurants, and factories. As the economy recovers, having sufficient electricity for businesses is critical to continue such operations.
Basically, transformers step the voltage up or down before it reaches our outlets. This is important because usually, electricity providers generate and feed high-voltage power in long-distance transmission wires. However, high-voltage power is not safe for residential and commercial use. This is why transformers change the voltage of electricity safely as it travels from the power plant to your home.
Transformers also reduce power losses in electric power systems or the grid during power transmission. When power is transmitted in long distances, power loss happens due to the resistance caused by heating. In this process, transformers pump up voltage to replace the lost power that is being transmitted.
In the Philippines, up to nine percent of generated electricity goes to waste because of system losses. Based on data from the Department of Energy (DOE) released in 2019, "losses" from generation, transmission, and distribution accounted for 9,994 gigawatt-hours due to testing and commissioning of various power plants across the country.
The sadder part of this is that system losses also affect consumers. Based on figures from Manila Electric Company (MERALCO), system loss charge accounted for around three percent of the electricity bill of a household using 200 kilowatt-hours per month.
But while conventional transformers do help reduce system losses, they can also pose harmful effects to the environment. Based on a study by the Institute of Electrical and Electronics Engineers, electric power systems are one of the major sources of carbon emissions, with four percent coming from the transformers in the system. Given the increasing demand for power, electric systems may need new transformers every year, which further increases emissions.
According to the DOE, distribution utilities registered a peak demand of 13,899 megawatts (MW) in 2018 and is expected to increase to 21,300MW in 2028.
Given the challenges posed by system losses and higher power demand, as well as growing concerns over climate change, Filipino firm First Philec is currently developing a "green transformer" that is more environment-friendly compared to a conventional transformer unit. Simply put, a small 50 kilovolt-ampere (kVA) transformer unit replaced by a green transformer reduces carbon emissions equivalent to more than what 20 acacia trees absorb in a year.
To put things into context, one acacia tree can absorb approximately 21.5 pounds of carbon dioxide every year. Acacia trees are also seen to significantly decrease both carbon dioxide and nitrogen in the environment where these are planted.
The "green transformer" is made from recyclable or biodegradable materials and is safer than traditional models. This new model will use an insulating coolant from natural ester, a renewable non-polluting oil product made from grown crop seeds. It also has a non-metallic component that will not pose any risk to the environment because of its recyclability or biodegradability.
Aside from being environment-friendly, the green transformer also offers the highest efficiency in class which leads to reduced losses in the distribution grid and has an extended product life.
"Having played a key role in power distribution, which has quickly become a necessity through the years, we are very much aware that being in such business entails responsibility. So, we took it upon ourselves to develop these green transformers that not only take care of our electricity needs, but more importantly of our environment. It's basically a win-win solution," said First Philec President Ariel Ong.
Transitioning to a greener transformer model is just one step in achieving a cleaner future for the country. However, many countries like the Philippines still rely on petroleum and use of plastic as standard manufacturing practices.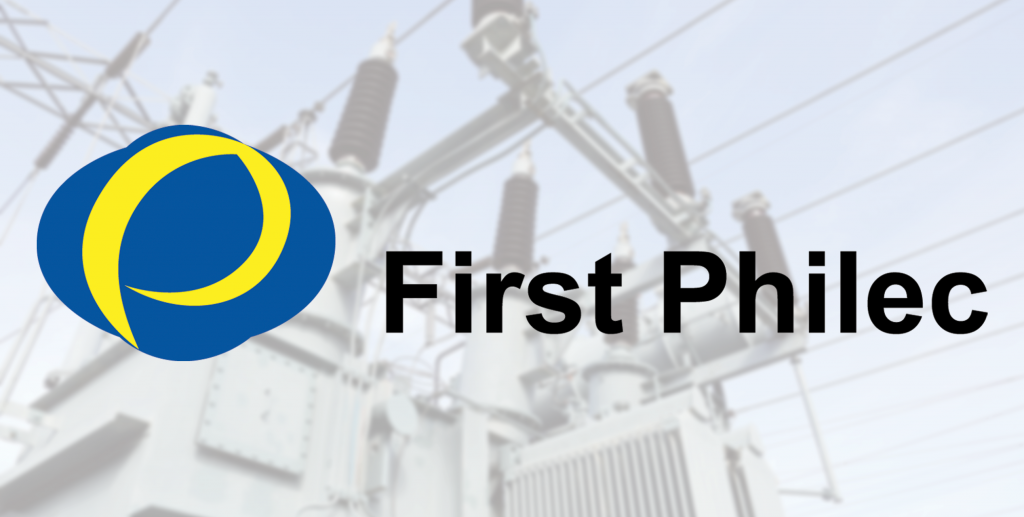 Decarbonization drives innovation
To further add to its environmental initiatives, First Philec's manufacturing facility in Batangas has also shifted to 100% renewable energy (RE) sources, particularly geothermal and solar. This shift contributes to decarbonization, or the process of removing or decreasing carbon dioxide emissions that drive global warming. Since the facility consumes around 500 kilowatts (kW) monthly, the plant is eligible to participate as a contestable customer in the government's Retail Competition and Open Access (RCOA) program, which has retail electricity suppliers (RES) offering clean and renewable power.
First Philec has also partnered with US-based kinetic energy storage company Amber Kinetics to help produce its flywheel energy storage systems.
Flywheel energy storage systems are a clean and efficient method to level supply and demand in energy grids.
"The Philippines has a long way to go when it comes to transitioning to clean energy. But every step counts and we have to take into consideration the energy needs of the future. With this 'green' transformer, we have the opportunity to promote green growth in the country," Ong remarked.
First Philec's "green transformers" is its contribution to parent firm First Philippine Holdings' mission towards a decarbonized and regenerative future as the country shifts towards 100% RE. First Philec's efforts complement those of sister firms First Gen Corporation and Energy Development Corporation (EDC), which generate 100% clean and renewable power.
As a First Philippine Holdings company, First Philec is powered by good—working towards helping improve the quality of life for the Filipinos of today and tomorrow.

---
---