In response to the country's rapidly changing energy needs, Hedcor — a subsidiary of Aboitiz Power Corporation — recently inaugurated through a virtual ceremony the group's first Regional Control Center.
The control center connects to Hedcor's five hydro facilities in Davao City and its four hydro facilities in Davao Del Sur, allowing all nine plants across Southern Mindanao to be operated remotely from a single control room.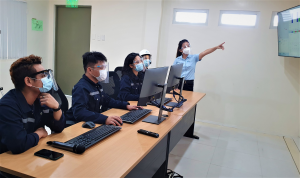 During the virtual inauguration, Hedcor Vice President for Operations Rolando Pacquiao shared that the project began as an idea in 2011, which eventually led to the automation of Talomo 3 Hydro in 2013 and Talomo 2 Hydro in 2014. The two plants located in Davao City are some of Hedcor's oldest manually operated plants, originally constructed in the 1950s.
Following the automation of five plants across the Talomo grid in 2019, Hedcor started moving towards integrating its operations with the newer Sibulan-Tudaya Hydro plants in Davao del Sur in 2020.
With its latest systems, the Regional Control Center allows centralized real-time data monitoring and sends notifications to management to help them stay on top of plant operations. It also features operations and reliability dashboards for performance tracking and outage analysis.
"This is actually our first milestone which gave us the confidence that we could do it moving forward," Pacquiao said.
Hedcor President and COO Carlos Aboitiz led the digital ribbon cutting and virtual demonstration of the control center's off-site operations. With the assistance of the operations and maintenance team, he was able to synchronize the second unit of the Tudaya 2 Hydro located in Santa Cruz, Davao Del Sur, all the way from his personal residence in Luzon.
"We set on a bold course to automate, connect, and integrate our entire fleet of 22 plants with a vision to operate our fleet from a single operations center. Let us remember to look at how far we've come, take stock of what we've learned, and forge ahead towards a future filled with new ideas and full of new possibilities," Aboitiz said.
This inauguration is a key moment in the company's multi-year digitization and integration projects, which aim to eventually connect all of Hedcor's hydro facilities onto a single National Operations Control Center by 2024.
Currently, Hedcor aims to integrate its Manolo Fortich hydros located in Bukidnon to the Mindanao Regional Control Center by 2021, while simultaneously working on plant automations of its hydro facilities in Northern Luzon.
---
---